A great artistic event of valuable guest artists from Slovenia – Amael Piano Trio at Kolarac Podium of Chamber Music
Monday, October 25, 2010)  –  Concert Review: Amael Piano Trio in Belgrade
Radio Belgrade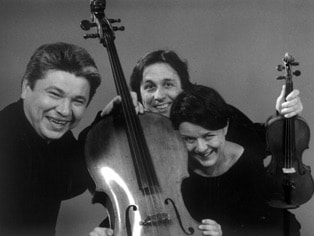 Amael PianoTrio, which had yesterday, 24 October debut in front of the Belgrade audience in the great Kolarac Hall, established eleven years ago the top three Slovenian artists,the pianist Tatiana Ognjanovic, violinist Volodja Balzalorsky and the cellist Damier Hamidullin.
The ensemble of enviable international reputation, for its debut in Belgrade selected works by Skerjanc, Schubert and Beethoven.
All three artists of this trio are prominent soloists, which was seen immediately at the beginning of the concert: luxurious, cultivated color of tone, and the technical mastery of each individual.
Their input total permeation in the joint performance of the music, presented as early as the first part of the program, the composition Maestoso lugubre by Lucijan Maria Skerjanc.
Oppressed by the tragedy of this score, which requires balancing of pathos and restraint, was realized through a saturated, dark sound range, and deep sound conformation, which occurs only as a result of common breathing.
Great opportunity for Belgrade fans of chamber music, in this manner to experience Slovenian work by L.M. Skerjanc: in a top, inspired performance of the trio Amael.
Trio in E Flat Major by Franz Schubert, like some kind of musical portrait of the harp, made a completely different kind of challenge: to create a transparent atmosphere, that seems to arise from nothing, from the flicker of air, which is only at moments condensed into clearly defined contours sound.
Playing in some parts of the composition on the very threshold of hearing, members of the trio Amael here demonstrated exceptional subtlety of mutual listening, like the kind of prompt with silence.
After these two compositions with completely different sides of musical expression, Amael Trio rounded the concert with interpretation of technical and interpretative challenging Piano Trio opus 97 -Ludwig van Beethoven.
This classic chamber music literature by the author himself considered it one of his best works, is one of the few in its genre in which all three of the performers set equally high demands.
After only a brief introduction of the first paragraph, in which, after performing a solo piano, imperceptibly interfere section violin and cello, it was clear from how much restraint, lyricism and, why not, the nobility, the trio Ognjanovic 'Balzalorsky 'Hamidulin interpret Beethoven's music.
This is precisely the reason that ARS SONORO today round up their interpretation of the final part of the first paragraph of this trio.
The concert of Amael Piano Trio shall remain reasonably be remembered as a great artistic event of valuable guest artists from Slovenia.
Ivana Komadina, musicologist: a critic, music editor of the Second Program of Radio Belgrade, Cultural Program
A great artistic event of valuable guest artists from Slovenia – Amael Piano Trio at Kolarac Podium of Chamber Music
About Amael Piano Trio
New York Concert Review – Amael Trio at Carnegie Hall
Amael Piano Trio is a very fine group. The stringplayer's intonation is impeccable, their tone is rich, beautiful and homogeneous and can vary from floating delicacy to vibrant full bodied sonorousness… 
A large multi-national audience rewarded the performers with warm approval and prolonged ovations… 
The Amael Piano Trio was founded by three very accomplished artists, who, individually, have backgrounds as prominent soloists and chamber musicians. 
All three artists, the pianist, Tatjana Ognjanovic, the violinist, Volodja Balzalorsky and the cellist Damir Hamidullin, have performed internationally as guests of numerous music festivals and cycles, and as soloists with many orchestras.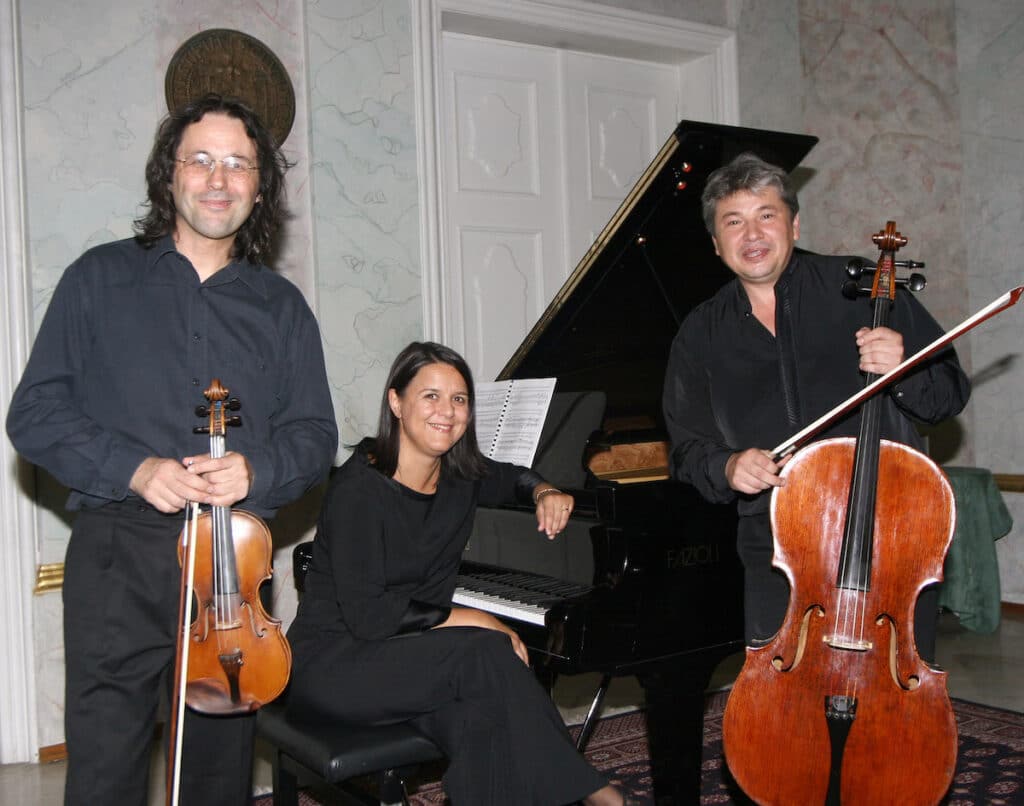 A great artistic event of valuable guest artists from Slovenia – Amael Piano Trio at Kolarac Podium of Chamber Music
Individually, as well, they have also created multiple CD,s and have made extensive live and archival radio and TV recordings throughout Europe and in the USA and Asia. 
The trio has 11 years of successful performances in a variety of venues, concert series, and festivals including: Universal Affair at Carnegie Hall, Grieg Festival in Bergen, Mask Fest in San Mario, Nuovi Spazi Musicali, Festival Spectrum at Gasteig in Munich, Forfest in Kromeriz, CZ, Ljubljana Festival, Bled Festival, Pucisca Summer Festival, Bol Summer Festival, performance at Cankarjev Dom (the most important cultural centre in Slovenia), the International Festival of Contemporary Music in Radenci, Summer Music Festival of Hvar (Croatia), International concert series of Zemono, The Spectrum Festival etc. 
The Amael Trio has achieved the status of being among the most sought after chamber groups in Slovenia. In addition to performing known traditional trio literature from various style epochs, the trio is also dedicated to performing contemporary works, and to the promotion, internationally, of Slovenian composers of piano trio literature. 
Article: A great artistic event of valuable guest artists from Slovenia – Amael Piano Trio at Kolarac Podium of Chamber Music