A top-notch trio, the Amael Piano Trio: Concert at Carnegie Hall
Saturday, November 20, 2010)  'A top-notch trio, the Amael Piano Trio, was presented this weekend under the auspices of the Spectrum Chamber Music Society with the support of the Ministry of Culture of the Republic of Slovenia.
In a program of 20th-century Slovenian music (first half) and Beethoven's Piano Trio in B-flat, Op. 97, the Archduke (second half), they brought unity and vigor to both old and new.
The Amael Trio, based in Ljubljana, states in its biography (in addition to mentioning traditional repertoire) that it is dedicated to performing contemporary works, and to the promotion, internationally, of Slovenian composers of piano trio literature.
They did an excellent job of just that in their Saturday evening program, and though only the pianist and violinist are natives of Slovenia (the cellist hailing from Russia), they represented Slovenia with honor.
They might add to their biography that they also promote some non-trio works, as there was a violin solo included on their program;
considering that each of the three players is of such strong individual ability, they might want to incorporate some solos or duos by the pianist and cellist as well. It would be a welcome addition.
The concert opened in an intensely dark vein with Maestoso Lugubre by Lucijan Marija Skerjanc (1900-1973). Composed in 1935, the work is actually the last movement of this composer's Piano Trio, though Skerjanc himself suggested that it be performed as a single work.
From the very first solo cello notes by Damir Hamidullin, a somber lyricism pervaded, deepened by each player's entry. The synchronization was marvelous, particularly in the string doublings….
All three blended in a way that was rich and warm, but also translucent, like the sonic equivalent of amber.
The pianist, Tatjana Ognjanovic, managed to be the perfect foundation and "glue" for the trio without any suggestion of dominance even with the Steinway lid up.
Violinist Volodja Balzalorsky came onstage next as soloist in Something Wild by Nenad First (b. 1964). Mr. First, though born in Zagreb, lives and works in Slovenia.
Something Wild is pretty much what its title suggests, a rhapsodic, virtuoso violin showpiece with a rough, rustic streak (plenty of fifths) and dizzying speed (think Bartok meets Paganini).
Seemingly fiendishly difficult in parts, it was the compulsory violin work in the 2005 International Johannes Brahms Competition.
While I cannot profess to love the piece, it was an intriguing break from the trios and certainly an opportunity for Mr. Balzalorsky to shine.
The first half concluded with the trio performing Five Short Pieces by Milko Lazar (b. 1965).
Dedicated to the trio in 2001, it is a work of great variety within concise, classically restrained movements, each contrasting with the last (arranged as fast, slow, fast, slow, fast).
The performance was one of extreme precision, and it would be hard to imagine it being played more convincingly than it was by this tightly knit ensemble.
Beethoven's Archduke Trio, a masterpiece that is reason enough to go to any concert, was given a fine, mostly polished performance for the evening's close.
Performers are unfortunately subject to the accumulated preferences of a listener when performing such an established masterpiece, and I felt it was slightly unsettled in parts.
Occasionally it was a matter of simply needing more agogic placement of downbeats (as in the first movement's initial move to G major, where a more settled metric feeling can enhance ensuing rhythmic surprises).
Other times (as in the magnificent third movement) it seemed that the pursuit of momentum was undermining the overarching grandeur of the work.
All in all, though, it was a fulfilling musical evening, and this is a superb ensemble, which I hope to hear again.
About Amael Piano Trio
New York Concert Review – Amael Trio at Carnegie Hall
Amael Piano Trio is a very fine group. The stringplayer's intonation is impeccable, their tone is rich, beautiful and homogeneous and can vary from floating delicacy to vibrant full bodied sonorousness… 
A large multi-national audience rewarded the performers with warm approval and prolonged ovations… 
The Amael Piano Trio was founded by three very accomplished artists, who, individually, have backgrounds as prominent soloists and chamber musicians. 
All three artists, the pianist, Tatjana Ognjanovic, the violinist, Volodja Balzalorsky and the cellist Damir Hamidullin, have performed internationally as guests of numerous music festivals and cycles, and as soloists with many orchestras.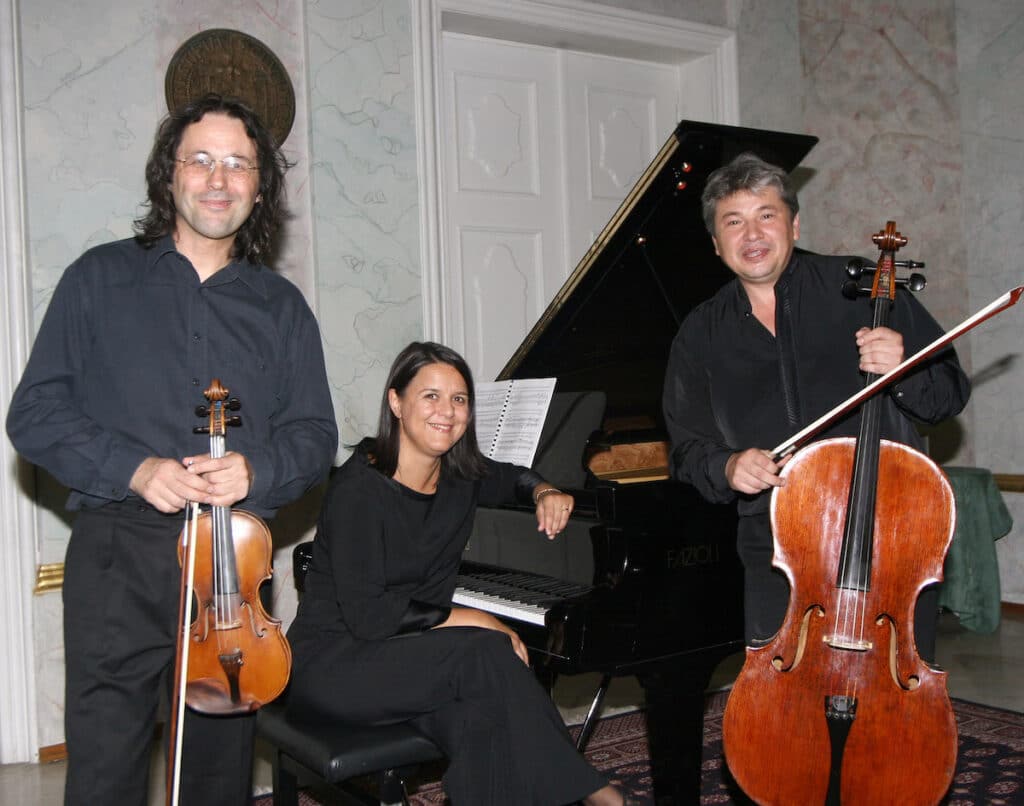 Individually, as well, they have also created multiple CD,s and have made extensive live and archival radio and TV recordings throughout Europe and in the USA and Asia. 
The trio has 11 years of successful performances in a variety of venues, concert series, and festivals including: Universal Affair at Carnegie Hall, Grieg Festival in Bergen, Mask Fest in San Mario, Nuovi Spazi Musicali, Festival Spectrum at Gasteig in Munich, Forfest in Kromeriz, CZ, Ljubljana Festival, Bled Festival, Pucisca Summer Festival, Bol Summer Festival, performance at Cankarjev Dom (the most important cultural centre in Slovenia), the International Festival of Contemporary Music in Radenci, Summer Music Festival of Hvar (Croatia), International concert series of Zemono, The Spectrum Festival etc. 
The Amael Trio has achieved the status of being among the most sought after chamber groups in Slovenia. In addition to performing known traditional trio literature from various style epochs, the trio is also dedicated to performing contemporary works, and to the promotion, internationally, of Slovenian composers of piano trio literature. 
A top-notch trio, the Amael Piano Trio: Concert at Carnegie Hall