Fanfare Review-Live in Maribor
Live collection of Volodja Balzalorsky VOLUME 3
(Sunday, August 15, 2010)  –  CD Review by Robert Maxham
VOLODJA BALZALORSKY LIVE IN MARIBOR 'Volodja Balzalorsky (vn); Christoph Theiler (pn) CANTABEL 003 (45:58) Live: Malibor 11/1989
DVORAK Violin Sonatina. DEBUSSY Violin Sonata. SREBOTNJAK Violin Sonatina No. 1. PAGANINI Cantabile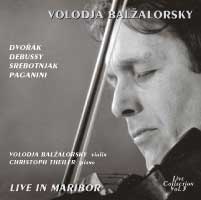 The third volume of Volodja Balzalorsky's Live Collection presents a recital given by Balzalorsky and pianist Christoph Theiler in Kazina Hall in Maribor, and recorded by Radio Slovenia-Regionalni RTV, in 1989.
The duo opened the program on that occasion with Dvorak's Sonatina, its first movement (and the opening of the second) suffused with glowing warmth and the charming rhythmic patterns teased cleverly out of the Larghetto's middle section.
Balzalorsky studied for a while with Josef Suk in Vienna, and he plays the Sonatina's Scherzo as though he had written it, with particularly insinuating subtlety in the trio. The work has been called the Indian Sonatina because of its connections with Iowa and Minnesota, but Balzalorsky colors it middle European rather than middle American.
If, after the first three movements, he seems to press in the Finale, his rhythmic energy and robust tone tie it – especially its reflective penultimate passage -to the other movements.
The first movement of Debussy's Sonata in Balzalorsky's performance sounds slinky and ethereal in its first movement, with appropriately reedy and highly inflected tone production, while Theiler provides shimmering background.
I've watched David Oistrakh playing this work with Frida Bauer (on VHS, Kultur 1208) many times, but he didn't seem to make as many timbral adjustments (neither did Isaac Stern in his recording from 1960) as does Balzalorsky in order to realize the movement's full potential (Joseph Szigeti did—at least almost did—in his 1940 recital with Bartók, though the recorded sound doesn't allow listeners to hear all of the expressive detail they seemed to produce).
The Intermède: Fantasque et léger, however, sounds generally heavier and less fantasque in Balzalorsky's reading (especially in the central section's repeated notes) than it does in either of these others so that the return to greater poignancy at its end provides a lower level of contrast.
Nevertheless, Balzalorsky's final passage suggests pastels, though haunting ones. The duo begins the last movement slowly, but quickly turns to a sort of sharp-edged articulation that lends the movement unusual excitement almost to the end.
Fanfare Review-Live in Maribor
The three movements of Alojz Srebotnjak's First Sonatina last only about eight minutes. The opening Allegro deciso, crisply rhythmic and tonal, assigns to the piano the role of a relatively equal partner, and Balzalorsky and Theiler collaborate in it with energetic élan.
The slow movement begins with a plaintive song for solo violin. Balzalorsky invests its singing melodies with great beauty of tone, and Theiler provides suggestive commentary.
The finale, Danza, returns to the first movement's rhythmic piquancy and sharp definition, with the violin at the outset setting the pace with slashing double-stops reminiscent of those in Stravinsky's Violin Concerto. In general, it's a work and a performance that collectors and explorers of all kinds should welcome—including the closing reading of Paganini's brief Cantabile (so often played with guitar) epitomizing elegant refinement and suave tonal charm.
Fanfare Review-Live in Maribor
If the CD's short duration gives anyone pause, the program's general excellence (as well as the vibrant recorded sound) should, in this case, compensate in some measure, especially since the program represents a single live performance. Recommended.
Robert Maxham
This article originally appeared in Issue 33:6 (July/Aug 2010) of Fanfare Magazine.
Fanfare Review-Live in Maribor
About Volodja Balzalorsky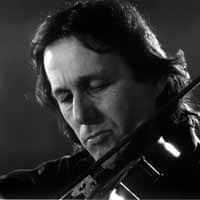 Volodja Balzalorsky from Ljubljana, Slovenia, performs internationally as a soloist, recitalist, and chamber musician.
Numerous highly praised concerts, broadcasts, CD, and TV recordings in various countries have established his reputation as an artist with a sensitive, intelligent, and intuitive gift of interpretation, a polished technique, and a rich, full tone.
Volodja is particularly active in the field of chamber music. He works with many international groups and ensembles. He has built long-term partnerships with several musicians, including pianists Christoph Theiler, Hinko Haas, Aleksandar Serdar, and Peter Caelen, percussionist Amy Lynne Barber, and his fellow members of the Amael Trio, pianist Tatjana Ognjanovic, later pianist Zoltan Peter and cellist Damir Hamidullin.
For his artistic achievements, he was awarded several international music awards:
He is Two Time Winner and Four-Time Nominee of Independent Music Awards.
Volodja is also the recipient of several further international music awards such as The Hollywood Music in Media Award, The Inland Empire Music Award, The Ontario Independent Music Award, The Canary Island Music Award, and Julij Betetto Music Award.
Fanfare Review-Live in Maribor