Photos: Volodja Balzalorsky
Volodja Balzalorsky at SXSW Festival 2008 in Austin
The concert of violinist Volodja Balzalorsky and pianist Jasksa Zlatar at concert hall of St. David Church received outstanding feedback with standing ovations. The artists performed works by Schumann, Klobucar, Ibert, Bloch and Brahms.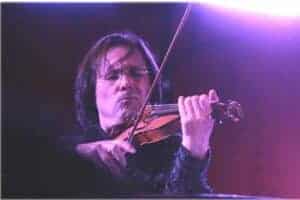 Volodja Balzalorsky at Alba Festival
Violin Piano Duo of Volodja Balzalorsky and Peter Caelen performed at Alba Festival in October 2017. They performed works by Paganini, Ravel and Brahms in Chiesa di San GiuseppeVia Vernazza, 6, Alba, Italy. One of several photos presented below.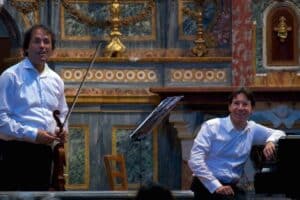 The Violinist Volodja Balzalorsky and the pianist Peter Caelen:China Tour 2017 Poster
The Violinist Volodja Balzalorsky and the pianist Peter Caelen performed integral works for Violin and Piano by Johannes Brahms – The first concert of The China Tour was on 5th of October 2017 in Beijing Concert Hall – 1 North Xinhua Street (北新华街1号), Beijing, China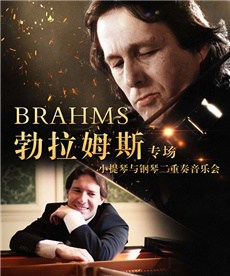 Aleksandar Serdar and Volodja Balzalorsky: Photo Session at Knight Hall – Festival Ljubljana
On the day of the concert at 64. Ljubljana Festival in August 2015, the violinist Volodja Balzalorsky and the pianist Aleksandar were invited to have a photo session with noted Slovenian Photographer Lado Jaksa. One of Photos is presented below. Location: Knight Hall of Krizanke, Trg francoske revolucije 1, 1000 Ljubljana, Slovenia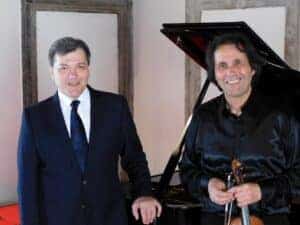 Volodja Balzalorsky- About
Volodja Balzalorsky from Ljubljana, Slovenia, performs internationally as a soloist, recitalist, and chamber musician.
Numerous highly praised concerts, broadcasts, CD, and TV recordings in various countries have established his reputation as an artist with a sensitive, intelligent, and intuitive gift of interpretation, a polished technique, and a rich, full tone.
Volodja is particularly active in the field of chamber music. He works with many international groups and ensembles.
He has built long-term partnerships with several musicians, including pianists Christoph Theiler, Hinko Haas, and percussionist Amy Lynne Barber in his earlier period.
Volodja is especially active in a long-term partnership with his fellow members of the Amael Trio. pianist Tatjana Ognjanovic, later pianist Zoltan Peter and cellist Damir Hamidullin.
Noted are constant collaborations with the pianist Aleksandar Serdar and the pianist Peter Caelen, especially in the period of the last six years.
For his artistic achievements, he was awarded several international music awards:
He is Two Time Winner and Four-Time Nominee of Independent Music Awards.
AWARDS:
The Vox Pop Independent Music Award 2014
The Independent Music Awards IMAs 2014 Four-Time Nominee
The Hollywood Music in Media Award
The Inland Empire Music Award 2008 – Best International Artist
The Ontario Independent Music Award – Best International Artist
The Canary Islands Music Award -Category: Interpretation-Instrumental
The Los Angeles Music Award Nominee – Best Classical Artist 2007
Other Highlights: … Betetto Music Award 2006 – the highest Music Award in Slovenia….
Just Plain Folks Music Award 2006 Nomination for CD Live in Belgrade – chamber music category
After his successful performance in the international cycle Violin Virtuosos in Belgrade, the esteemed critic in former Yugoslavia, Slobodan Turlakov, defined his artistic personality with the following words:
Volodja Balzalorsky is passionately devoted to violin, inspired by the flame which distinguishes the most refined and authentic violinists capable of building the dramaturgy of musical works in the most natural and persuasive manner. His interpretation calls for an exalted and compassionate listener, which is the d i s t i n c t i o n of rare and predestined musicians…
(Vecernje Novosti, Belgrade)