Violin Virtuoso Volodja Balzalorsky – Biography
By The Spectrum Chamber Music Society – editorial team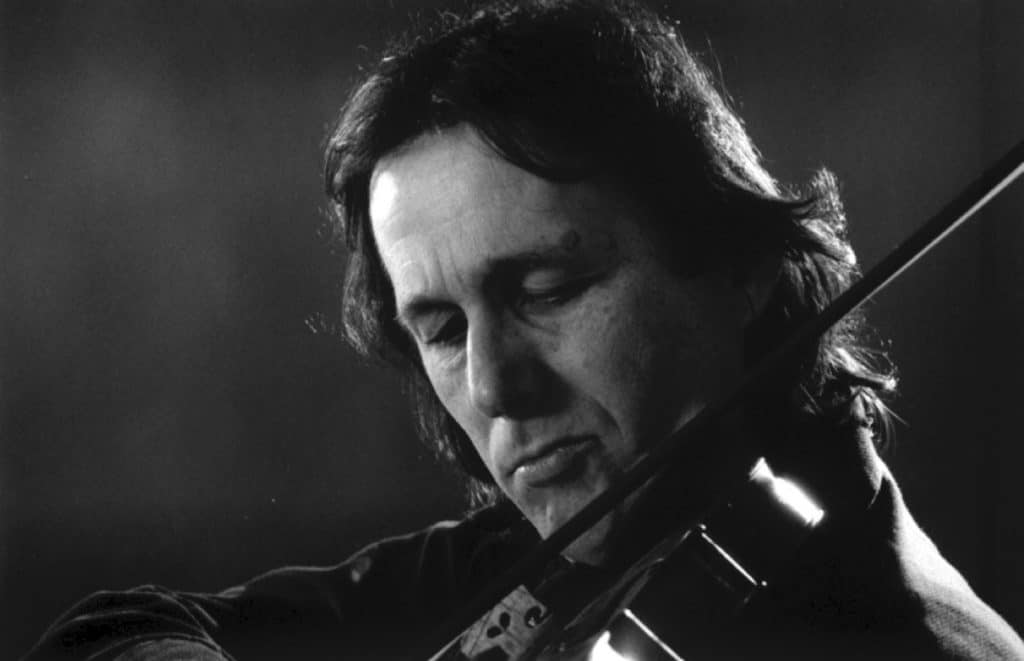 Violinist Volodja Balzalorsky born on 31 January 1956 in Kranj, Slovenia, is regarded as one of Slovenia's most distinguished musical personalities.
Over the past four decades he has established an international reputation as one of the most sensitive and compelling artists.
In addition to his artistic activities, Volodja Balzalorsky is distinguished by his immense commitment to musical education activities as a violin teacher.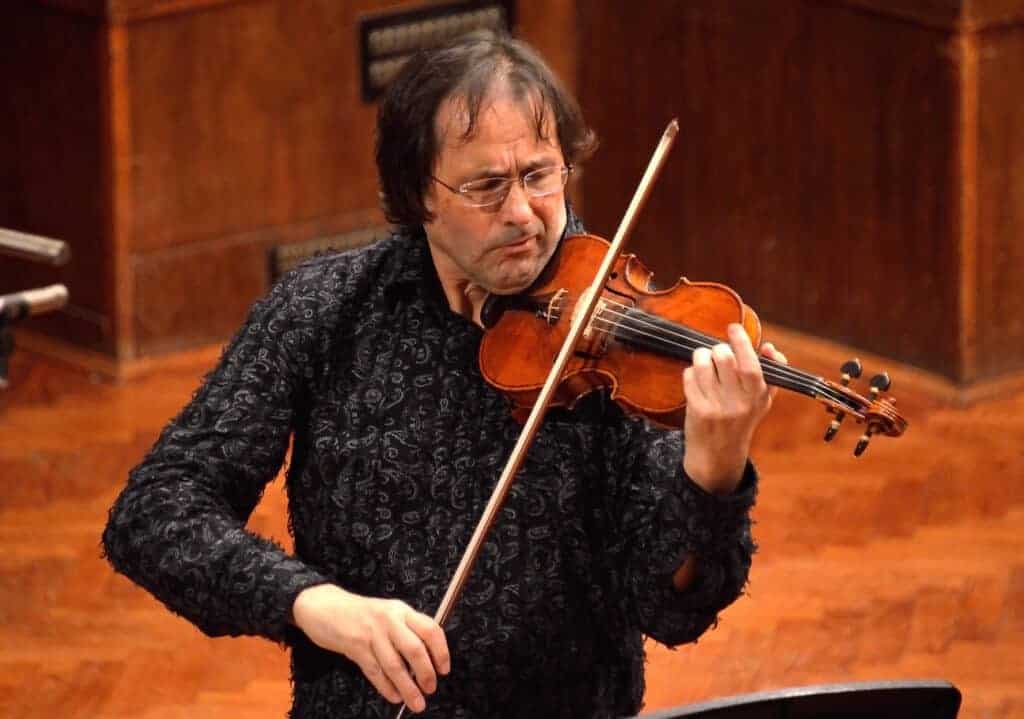 Artistic achievements
Volodja Balzalorsky is known for his convincing, intense authentic interpretations, which are a synthesis of strong but controlled temperament, passion, very sophisticated delicate rich nuances, always a beautiful specific personal tone, and above all a suggestive musical narration backed by virtuoso brilliance, completely assimilated with his musical expression.
He has performed in many international music festivals and concert series throughout Europe, Nord America and Asia and has recorded for Radio-TV stations in Croatia, Serbia, Italy, Macedonia, Czech Republic, Bulgaria, Kosovo, Iran, China, United States and in Slovenia.
Several CDs and digital albums were released by labels such as HRT Orfei, Croatia; Helidon, Slovenia; Animato, Germany, Eroica classical recordings, USA, ZKP RTV SLO, Slovenia and Cantabel Productions, Slovenia.
His digital albums, mostly live recordings, are available on iTunes, Amazon, Spotify, Deezer, Tidal and other digital outlets.
Volodja's attitude towards classical music, which often breaks through barriers, matches his expressive musicality and technical sophistication, with a remarkably versatile repertoire revealed by artistic curiosity, which includes the standard Baroque, Classical, and Romantic literature, as well as new works by many contemporary composers from all over the world.
A special feature are also works for violin and percussions.
Several composers dedicated their compositions to Volodja, who also performed them as a "first performance".
He is also considered as a promoter of Slovenian violin and chamber music abroad,
For his artistic and pedagogical achievements, Volodja has been awarded numerous prizes.
How Volodja became a classical violinist – How it all began – Study Period
Volodja's initial study of the violin did not take place in the usual way, which is considered standard to achieve a professional level. He started playing the violin relatively late at the age of nine and seriously at sixteen.
In an interview Volodja had for Fanfare Magazine, he explained as follows:
Today I can say that I was extremely lucky, first to study with one ofz the best Slovenian violin teachers Ciril Veronek at Conservatory in Ljubljana, and then to continue my higher education in violin at famous institutions in Cologne, Moscow, Vienna and Zagreb with excellent professors and internationally renowned violinists such as:
Igor Ozim, the late Galina Barinova, Grigory Zhislin Josef Suk, Klaus Maetzl, Josip Klima, as well as all members of the famous Amadeus quartet, with whom I also had chamber music lessons for four years.
I must mention that I started playing violin relatively late, when I was 9, and seriously when I was sixteen, before 16, I had a bad history of training — even not regularly. During this period I was more sports enthusiast.
Even music, which I began to seriously listen to, when I was 13, was not classical music, but in 1969 the most popular music of that period.
Soon I focused on listening to the exploration of various jazz bands. I was particularly impressed by some jazz violinists like Jaen Luc Ponti, Jerry Goodman, and especially the great Stephen Grapelli.
My first musical ambition was to learn violin better, to be able to improvise a bit and able to play the violin in jazz – rock band with my friends.
Of course, this also needed immediately more training (practicing). After the happy circumstances, I began increasingly to listen to classical music too.
When I was 16, I first heard the recording on the disc by Christian Ferras performing famous Mendelssohn and Tchaikowski concertos), and the disc with famous romantic miniatures performed by Ida Haendel.
A few weeks afterwards, when I was completely fascinated by the beauty of these two violinists play, the guest violinist in Ljubljana (my hometown) was famous David Oistrakh, performing as a soloist with the Slovenian Philharmonic.
All this resulted in me right internal revolution, which made me literally poisoned with music and since then I've only had one wish, to become a musician – violinist. With the support of my parents I started to buy all available recordings to listen to and to learn about all the most important violinists.
Of course I began to practice a lot too.
Just one year after I first heard Mendelssohn, I learned it and performed it at a school open concert.
Thanks to my professor in Ljubljana, Cyril Veronek, who immediately responded to the great change in my musical interests and began to work very intensively with me, I passed the entrance exam in Cologne (Hochschule für Musik).
There, I studied for five years. with the legendary Slovenian violin teacher Igor Ozim and graduated with the highest grade.
Throughout my studies in Cologne, I participated in several chamber ensembles, and also had regular chamber music lessons with all members of the Amadeus Quartet and with the cellist Boris Pergamenschtschikow.
The five-year Cologne period was also the period of my most intense violin practice, and at the same time I listened to music from LPs, soon also CDs and regularly attended concerts. It was a period of exploring and discovering the beauty of chamber and symphonic music, but I never stopped listening to jazz and other genres of music.
Also very important was my one-year study period in Moscow (1980-81) at the Pyotr Ilyich Tchaikovsky Conservatory and work with renowned violinist Galina Barinova, as well as regular lessons with violin virtuoso Grigory Zhislin, who was then a professor at the Gnesin Institute.
In Moscow, I also had the opportunity to attend the lessons of other students, with well-known professors such as Leonid Kogan, Maya Glezarova, Eugenia Tchugayeva, Irina Bochkova to name just a few. This further broadened my musical horizons and violin knowledge.
Throughout the total period of study, for my personal understanding of music, with strict respect for the composer's scores and stylistic periods, and above all for the development of my own individuality and for the courage to show it on stage, the most important was the support of the world-famous violinist Josef Suk. I was his student at the Vienna University of Music for four years (1981-85).
Go to the top – Violin Virtuoso Volodja Balzalorsky – Biography
Career – Early Period
While still studying and especially immediately after, Volodja devoted himself very intensively to numerous concert performances as a guest of the most important concert halls in former Yugoslavia, and soon increasingly to concert performances abroad.
Of particular importance for this period were several "debut" concerts that were rewarded with standing ovations:
the first Volodja's truly major success was at the final concert of the Masterclass for violin and piano duo, conducted by Franco Gulli in Trieste, in May 1979, performing Franck Sonata with New Zealand pianist Alison Laender, also documented with a live RAI recording.
August 1979: Selected by Yogoslav Youth to participate at Ohrid Festival. This was also the first performance in Duo with Hinko Haas
February 1981: in Ljubljana, when Volodja performed for the first time as a soloist in Brahms' violin concerto with the Slovenian Philharmonic and the famous Slovenian conductor Anton Nanut,
in April 1983: a very noticeable recital in Zagreb together with very talented pianist Edi Terbovc
In April 1986: the first performance in the famous Kolac Hall in Belgrade with splendid success, on the basis of which new concert invitations immediately followed.
The most important for this period was the intensive violin-piano duo collaboration with the German pianist Christoph Theiler from 1985-1997, as well as with the Slovenian pianist Hinko Haas, with whom Volodja Balžalorsky played in a duo from 1979 until his premature death in 2020.
Early period ensembles of Violin Virtuoso Volodja Balzalorsky:
Slovenian Piano Quartet
In the period 1986-87 Volodja was a member of Slovenian Piano Quartet – ensemble of noted Slovenian musicians: Milos Mlejnik, cello; Romeo Drucker, viola; Janko Setinc, piano and Volodja Balzalorsky, violin.
Highlights: A very successful concert at Cankarjev dom (the most important venue in Slovenia) in Ljubljana (December 1986) – documented by Radio Slovenia with woks by Mahler, Brahms and Turina. Short Slovenian tour followed.
Trio Kobal-Saje-Balzalorsky
Part of Volodja's repertoire is music for violin and guitar and repertoire for flute, violin and guitar.
Since 1984 Volodja performed at numerous concerts in Slovenia in a trio of well-known Slovenian musicians, the guitarist Igor Saje and the flutist Cveto Kobal. In 1987, their concert was in the RAI Trieste studio. RAI also broadcasted the concert live. In the same year, the trio performed at the festival "Sarajevo Winter" in Sarajevo. – documented on Sarajevo TV. Numerous concerts of the trio were organized throughout Slovenia by the Musical Youth of Slovenia.
Trio Ritratto Dell' Amore
In 1993, together with esteemed musicians the harpsichordist Nedka Petkowa (Bulgaria-Slovenia) and the flutist Cveto Kobal, Volodja founded ensemble "Trio Ritratto dell' amore" – ensemble dedicated to baroque and contemporary music.
They performed notably in Slovenia, Italy and Austria. It is worth to mention concerts at festival "Rogaska Summer 1994", "Kamnik chamber music festival 1997", which was recorded and documented by Radio Slovenia and two concerts at Festival Spectrum (2004 and 2006).
Highlighted Concerts-Tours 1979-2000
---
Ohrid Festival, North Macedonia – August 1979
Duo with Hinko Haas – a part program and Duo with Monika Skalar, violin
Soloist with Slovenian Philharmonie – February 1981
Brahms Violin Concerto
3rd Zagreb recital in HGZ – June 1986
performing
Ohrid Festival, North Macedonia – August 1979 Duo with Hinko Haas – a part program and Duo with Monika Skalar, violin
Soloist with Slovenian Philharmonie – February 1981 Brahms Violin Concerto
3rd Zagreb recital in HGZ – June 1986 performing 20th century – music with Hinko Haas – recorded by Radio Croatia
Concert in Vienna – Beckstein Saal 1988 with Christoph Theiler as a part of Austrian German tour
Concert in Belgrade – Violin Virtuosos at Kolarac Hall -april 1988 with Hinko Haas – CD Live in Belgrade
Zagreb Biennale – April 1989 Oliver Messiaen: The End of Time
Tour Italy, Slovenia, Austria with Christoph Theiler – March 1991and TV emissions in Ljubljana (2x A Small Concert)
Festival Midi Minimes in Brussels – August 1993 with Christoph Theiler
Vienna- Boesendorfer Haal – March 1996 with Christoph Theiler – CD Live in Vienna
European Month of Culture + George Crumb Festival Ljubljana 1997 – Georg Crumb: Quartet -Black Angels
Festival "Neuburger Barock Konzerte" – september1999&2000 soloist, concert master and conductor with Freiburgerbarocksolisten – eight performances
Go to the top – Violin Virtuoso Volodja Balzalorsky – Biography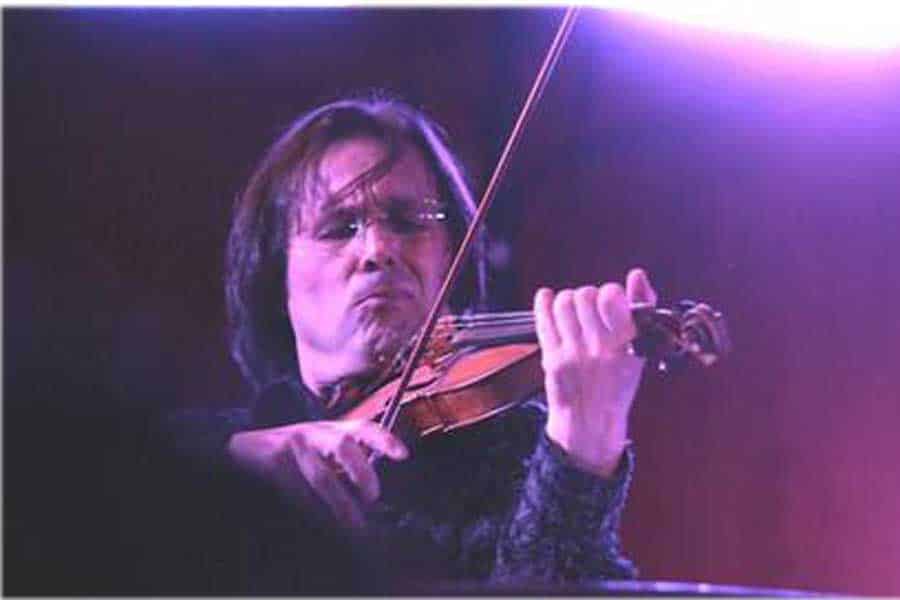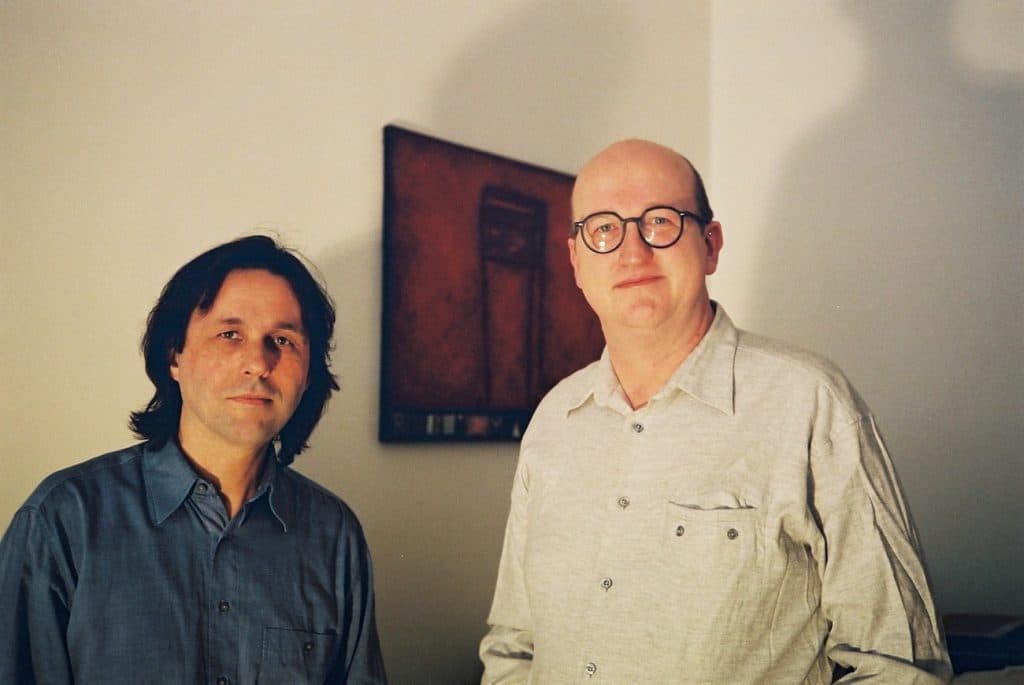 International Concert Performances
From 1986 onwards, Volodja has received regular invitations for concert performance at music festivals and concert series in various countries,
mainly with his duo partners Christoph Theiler and Hinko Haas, as well as with his Amael Piano Trio from 2001 on…
He has also received regular invitations from many national Radio-TV stations in various countries to record and broadcast his concerts live. For several of them, Volodja Balzalorsky and his partners also made a large number of archival recordings.
As a soloist, Volodja Balžalorsky has performed notably with the Slovenian Philharmonic Orchestra, Slovenian Symphony Orchestra, Ostrava Chamber Orchestra and with many other orchestras in various countries.
International chamber music collaborations and chamber music projects
Volodja personally emphasizes that one of his greatest loves and passions is chamber music.
Thus, in his more than 40-years rich career, he has devoted himself mainly to chamber music, especially in the last twenty years as a founding member of the renowned Slovenian ensemble Amael Piano Trio, as well as playing in Duo for violin and piano-currently with pianists Aleksandar Serdar and Peter Caelen and earlier as a long-term partnership with the pianists Hinko Haas, Christoph Theiler, and Jaksa Zlatar.
In 2009, in addition to the concerts of the Amael trio at the Kromeriz Festival of Contemporary Music and the San Marino Festival, Volodja also collaborated with pianist Julian Riem and gave concerts with him at the famous Gasteig in Munich. Before that, he played a few concerts in Slovenia with Julian Riem.
A few weeks later, however, he had a very successful third appearance at Weil Hall at Carnegie Hall with English pianist James Lisney.
In conjunction with his chamber music projects as a guest artist at festivals such as: Zagreb Biennale (1989), Ost-West Music Festival (1992), Aberystwyth Chamber Music Festival(1997, 1998), European Month of Culture 1997 – Georg Crumb festival in Ljubljana, A Universal Affair at Carnegie Hall (2005), SXSW Music Festival in Austin (2009, 2010), Tallinn Chamber Music Festival (2014), Evmelia Festival (2013, 2015) Volos-Agria,Greece etc, Volodja concertized with revered soloists and notable chamber musicians from all over the world.
A few of this musicians are:
Pianists: Đorde Stanetti, Croatia; Albina Šikšniūtė, Lithuania; Benjamin Rawitz, Israel; Vladimir Kovalski, Russia-USA; Michelle Schumann, Canada-USA; Brett Bachus, USA; Maria Pikoula, Greece; Marija Vrskova, North Macedonia; Saori Haji, Japan.
Violinists: Valery Oistrakh, Russia; Michael Bochmann, United Kingdom; Mark Messenger, United Kingdom; Lana Trotovsek, Slovenia; Rusanda Panfili, Austria; Irina Kovorkova, Russia
Violists: Simon Rowland Jones, United Kingdom; Luca Sanzo, Italy; Svava Bernhardsdottir, Island; Johanna Vahermägi, Estonia
Cellists: Nicholas Jones, United Kingdom, Igor Mitrović, Serbia-Slovenia, Seeli Tolvio, Finland; Elena Skvortsova, Russia;; Miloš Mlejnik, Slovenia; Andrej Petrač, Slovenia; Karmen Pečar, Slovenia,
Wind instrumentalists:
clarinetists David Campbell, United Kingdom; Milko Pravdić, Croatia, Jure Jenko, Slovenia; Andrej Zupan, Slovenia.
Collaboration with Percussion Plus Project
He has performed with the Percussion Plus Project in Prague and Venice in 1998 and later in Indianapolis and Greencastle in 2003 with works for violin solo and percussion ensemble:
The both concerts in Indiana included the following works: Marginal Sounds by Ernst Křenek; Canto Intimo by Alois Ajdič; Luboš Fišer's Crux, a work for violin, timpani, and chimes; De Color, a work for violin and marimba by Tania León; and Lou Harrison's Concerto for the Violin with Percussion Orchestra. www.depauw.edu/news-media/
Soloist and Concert Master of Freiburg Baroque Soloists
It is worth mentioning Volodja Balzalorsky's two-year collaboration (1999-2000) with Freiburg Baroque Soloists (Freiburg Barocksolisten).
During this period, Volodja was their soloist, concert master and conductor. He also recorded two CDs with the orchestra – for the Animato label: "Neuburger Barock Konzerte 1999" and "Neuburger Barock Konzerte 2000".
As a soloist, he performed with them at several concerts at the Baroque Festival in Neuburg and at several concerts in Freiburg – Freiburger Neuesjahr Kozerte 1999 and 2000.
Highlighted Concerts & Concert Tours from 2001 onwards
---
Highlighted Concerts & Concert Tours from 2001 onwards – selection
In early 2001 founded Amael Piano Trio – its first Slovenian tour in October-November including concert at Festival Spectrum – recorded by Radio Slovenia
Dalmatien Tour in Croatia with Jaksa Zlatar (October 2002) – Highlighted concerts: in Zadar and in Split – In the Duo with Jakša Zlatar, tours at various Croatian cities regularly followed every year until October 2016
Indiana Concerts-Indianapolis and Greencastle April 2003 with Percussion Plus Project -works for violin and percussion ensemble
Carnegie Hall Concerts (2005, 2006, 2009, 2010) in Weil Hall – September 2005 – Festival "A universal affair," pianist Vladislav Kovalski; in June 2006 Festival "A Universal Affair" – Amael Piano Trio, November 2009 "Arriva Diva's Master Concert Series, pianist James Lisney, November 2010 – Amael Piano Trio (New York Concert Review)
Recital at SXSW Festival 2008 in Austin – March 2008 The first classical concert ever at the biggest music festival in the world – pianist Jaksa Zlatar- concerts at SXSW 2009 and 2010 followed
Tour with Hinko Haas – Slovenia, Croatia, Italy, Norway – July-August 2008: featuring Festival of nations in Rome and Nordland Festival in Bodo-Norvay
Amael Piano Trio at Festival of contemporary music in Kromeriz-June 2009-recorded by National Czech Radio – concert at San Marino festival followed
57. Ljubljana Festival – August 2009 with Hinko Haas: the concert was also Inaugural concert of election to "full professor"
November 2011 – Amael Piano Tour in England – four concerts
Amael Piano Trio in London – March 2003 – The Forge Venue – Audio recording of the whole concert published on YouTube
Evmelia Festival, Volos-Agria, Greece April 22-26 2013 guest artist – three concerts recorded by Volos Radio and TV
Forfest – festival of contemporary music – June 2014 – presentation of Slovenian composers with Hinko Haas – recorded by the Czech Radio
Tallinn Chamber Music Festival – August 2014 – with Amael Piano Trio
The Kolarac Podium of Chamber Music, Belgrade – November 2014 – pianist Hinko Haas – TV recording
"Musique des Nations" – Luxembourg – February 2015 Presentation of Slovenian modern composers with Hinko Haas
Tour Slovenia-Italy Serbia in Duo with Aleksandar Serdar – August&October 2015 – featuring 63. Ljubljana Ferstival and The Kolarac Podium in Belgrade
Amael Piano Trio Benelux-Germany Tour – February 2017
China Tour – November 2017 with Peter Caelen – 13 cities – featuring performance at Beijing Concert Hall
Festival " The Music of Europe"–Sofia Philharmonic Hall, Sofia – April 2018 – with Amael Piano Trio
Euro Chamber Music Festival Gdansk – October 2018 with Peter Caelen
34. Fajr Festival at Vahdat Hall, Tehran – February 2019 – with Amael Piano Trio
6th Krakow Musical Autumn – October 2019 – with Peter Caelen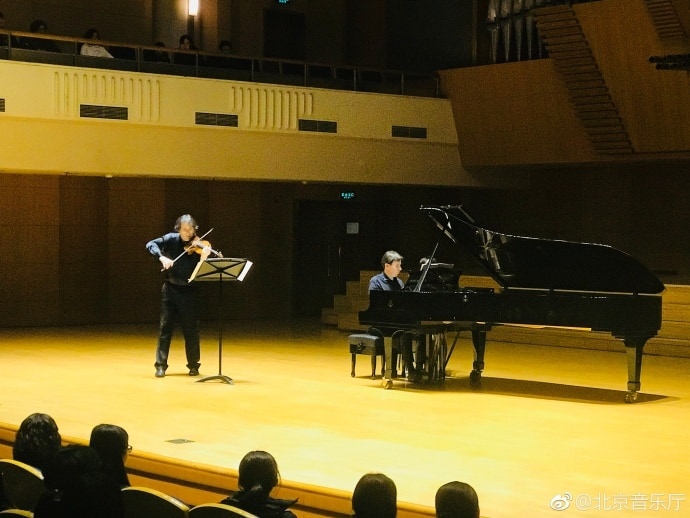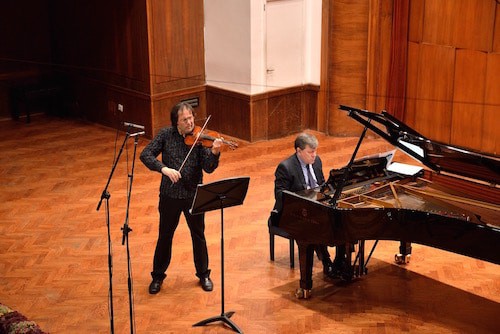 Violin & Chamber Music Teacher
An important part of Volodja's musical activity is the teaching of the violin, as well as chamber music.
Volodja complements his artistic activities with pedagogical work as a professor of violin and chamber music at the University of Ljubljana – Academy of Music, and regularly teaches in various countries in the form of Violin and Chamber music Masterclasses.
Detailed information on Volodja's pedagogical work (violin and chamber music teaching), can be found at Volodja Balzalorsky – Violin Teacher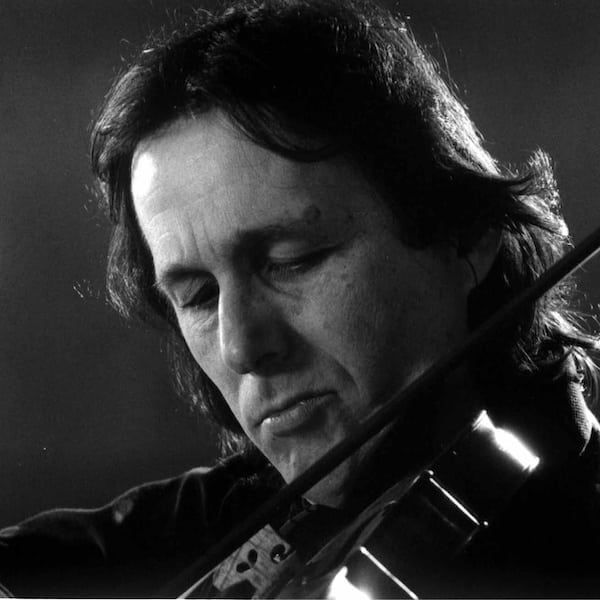 Go to the top – You are on the page: Violin Virtuoso Volodja Balzalorsky

Go to the top – Violin Virtuoso Volodja Balzalorsky – Biography