Superb Beethoven-Top-notch performance of Amael Piano Trio in London
(Tuesday, November 30, 2010) 'The Classical Source Concert Review:
Amael Piano Trio at The Forge, London Reviewed by: Malcolm Miller
The members of the Amael Piano Trio have a large discography and numerous works composed for them. On this occasion they presented a fascinating selection of Slovenian music and a riveting interpretation of Beethoven's 'Archduke'.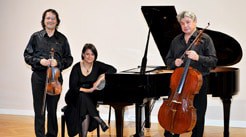 Pride of place was accorded to Maestoso lugubre by one of the leading Slovenian composers, Lucijan Marija Skerjanc (1900-1973), a multi-talented musician 'pianist, conductor, composer and head of the Ljubljana Academy of Music ' who composed it when he was thirty-five, as the finale of a 45-minute work.
The movement starts with a Hindemith-like fugue based on a widely contoured subject, introduced here with strident resonance by Damir Hamidulin. The work evolves a more opulent chromatic impressionism reminiscent of Delius, with crunchy piano chords overlaid by expansive, sustained melodies in octaves for strings.
There is a funereal dotted-rhythm procession assigned tothe piano at the mid-point, which Tatjana Ognjanovic projected with compelling character, highlighting the biting, ostinato-laden bittersweet flavour suggestive of Shostakovich.
In the final section there are several passages of exquisite beauty which counter the general dour mood, but the ending is a darker procession for piano alone.
In a more experimental atonal idiom was Something Wild by Nenad First (born 1964), an intriguing work that Volodja Balzalorsky projected with stunning virtuosity and gripping energy.
In the hands of this subtle yet communicative artist the violin came alive, with pointed pizzicato, incisive double-stopping and rapid passagework adding to the relentless excitement.
A more radical exploration of the piano trio emerged in Five Short Pieces by Milko Lazar (born 1965). Composed in 2001 for the Amael musicians, each of the movements is vividly contrasted and finely crafted, alert to a range of influences including minimalism, jazz harmonies and rock rhythms.
The two slow movements, second and fourth, evoked poetic imagery in the spare use of tiny ostinato patterns and wisps of melody; in the second ('Largo lamento) an atmospheric texture of high violin and low piano chords frame an elegiac cello melody.
The faster movements radiated energy and panache, with quick-fire repeated-note motifs and fizzing syncopations.
The concert concluded with a superb 'Archduke', full-blooded in tone yet also respectful of structural clarity. Magical colouring of modulations, highlighting of luminescent trilling, and fresh shades, lifted this performance above the usual.
The fast tempo for the scherzo contributed to its lively imitative dialogues, and also the syncopations of the jocular finale. Yet the Variations of the third movement was the highpoint, a transcendent, calm flowing beauty of tone, the rhetoric involving and absorbing.
The Amael Piano Trio was on top form and will be welcome in London again and often.
Read Original Review: http://www.classicalsource.com/db_control/db_concert_review.php?id=8755
About Amael Piano Trio
New York Concert Review – Amael Trio at Carnegie Hall
Amael Piano Trio is a very fine group. The stringplayer's intonation is impeccable, their tone is rich, beautiful and homogeneous and can vary from floating delicacy to vibrant full bodied sonorousness…
A large multi-national audience rewarded the performers with warm approval and prolonged ovations…
The Amael Piano Trio was founded by three very accomplished artists, who, individually, have backgrounds as prominent soloists and chamber musicians.
All three artists, the pianist, Tatjana Ognjanovic, the violinist, Volodja Balzalorsky and the cellist Damir Hamidullin, have performed internationally as guests of numerous music festivals and cycles, and as soloists with many orchestras.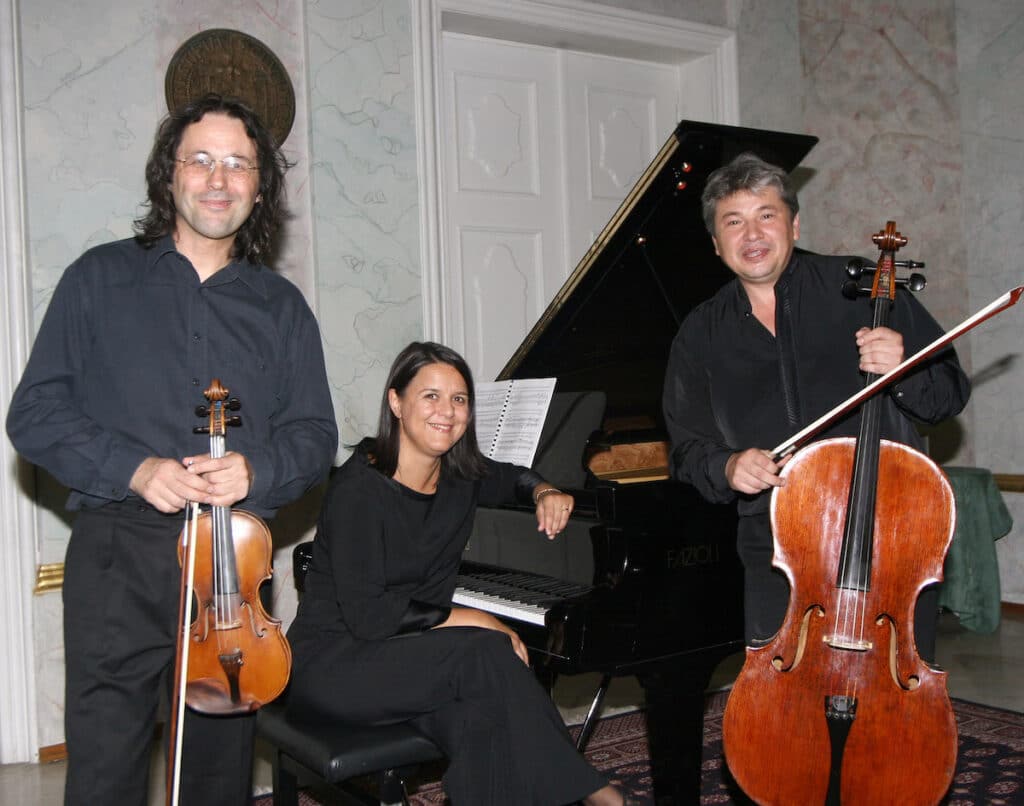 Individually, as well, they have also created multiple CD,s and have made extensive live and archival radio and TV recordings throughout Europe and in the USA and Asia.
The trio has 11 years of successful performances in a variety of venues, concert series, and festivals including: Universal Affair at Carnegie Hall, Grieg Festival in Bergen, Mask Fest in San Mario, Nuovi Spazi Musicali, Festival Spectrum at Gasteig in Munich, Forfest in Kromeriz, CZ, Ljubljana Festival, Bled Festival, Pucisca Summer Festival, Bol Summer Festival, performance at Cankarjev Dom (the most important cultural centre in Slovenia), the International Festival of Contemporary Music in Radenci, Summer Music Festival of Hvar (Croatia), International concert series of Zemono, The Spectrum Festival etc.
The Amael Trio has achieved the status of being among the most sought after chamber groups in Slovenia. In addition to performing known traditional trio literature from various style epochs, the trio is also dedicated to performing contemporary works, and to the promotion, internationally, of Slovenian composers of piano trio literature.