Very successful tour of Amael Piano Trio in Benelux/Germany
(Saturday, February 18, 2017) '
The Amael Piano Trio can look back on an extremely successful Benelux -Germany tour of five concerts last week: after three splendid performances in Luxembourg, Verviers and especially in Leusden where interpretation of Smetana was rewarded with standing ovations at the end of the concert.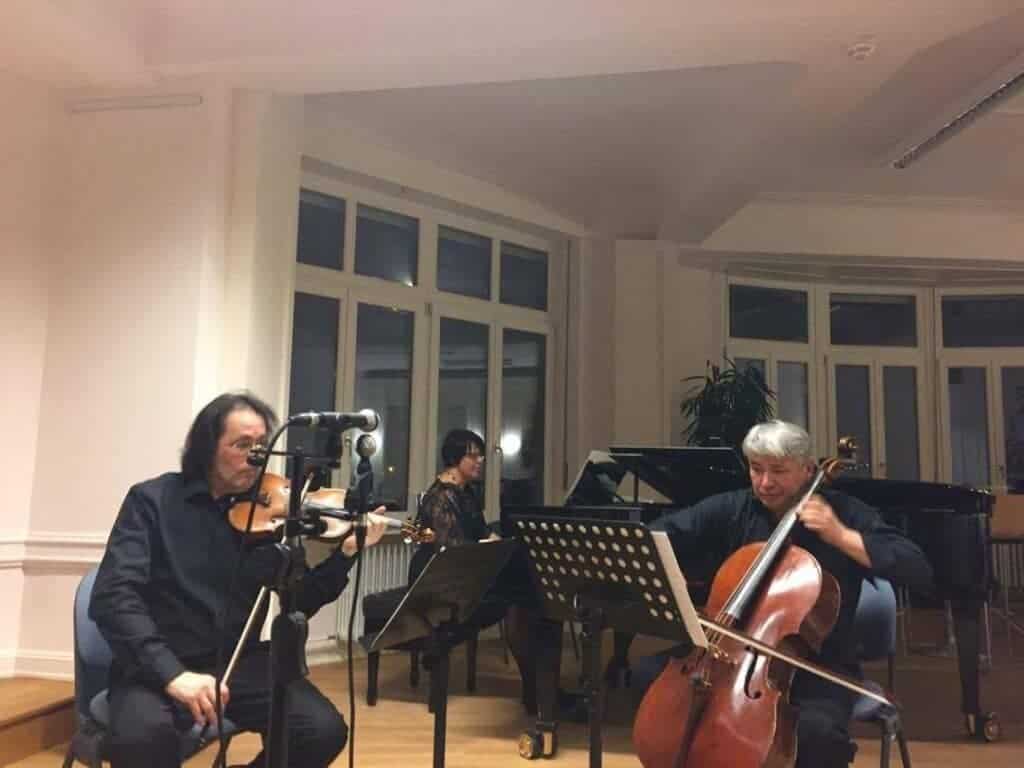 Amael Piano Trio achieved also big success performing Alfred Schnittke trio and Brahms trio in c minor in Nordhorn (http://pronota.de/2017_02_Rezension_Amael_Piano_Trio.pdf) and again Schnittke and Beethoven-Arcduke in Assen.
Tour Schedule:
Tuesday, February 07, 2017 '8pm-10pm Foyer Europeen 12, Rue Heine, Luxembourg -ville, Luxembourg
Amael Piano Trio at 'Les Concerts du Foyer Europeen Works by Schubert, Brahms, Smetana, Lazar
Wednesday, February 08, 2017 '7.30pm Musque Beaux Arts de Verviers, Belgium Rue Renier 17 Verviers,
-Concert hosted by Slovenian Embassy in Brussels: On the occasion of the celebration of Slovenian Culture Day and the 25th anniversary of diplomatic relations between Belgium and SloveniaThursday,
February 09, 2017' 8pm-10pm Valleiconcerten Leusden Stichting Valleiconcerten, Bitterschoten 48 3831 PC Leusden, Netherland
Amael Piano Trio with works by Schubert, Brahms, Lazar and Smetana
Saturday, February 11, 2017' 8pm-10 pm Pro-Nota Concerts Nordhorn Manz Saal im Nino Hochbau, Nordhorn, Germany (DE)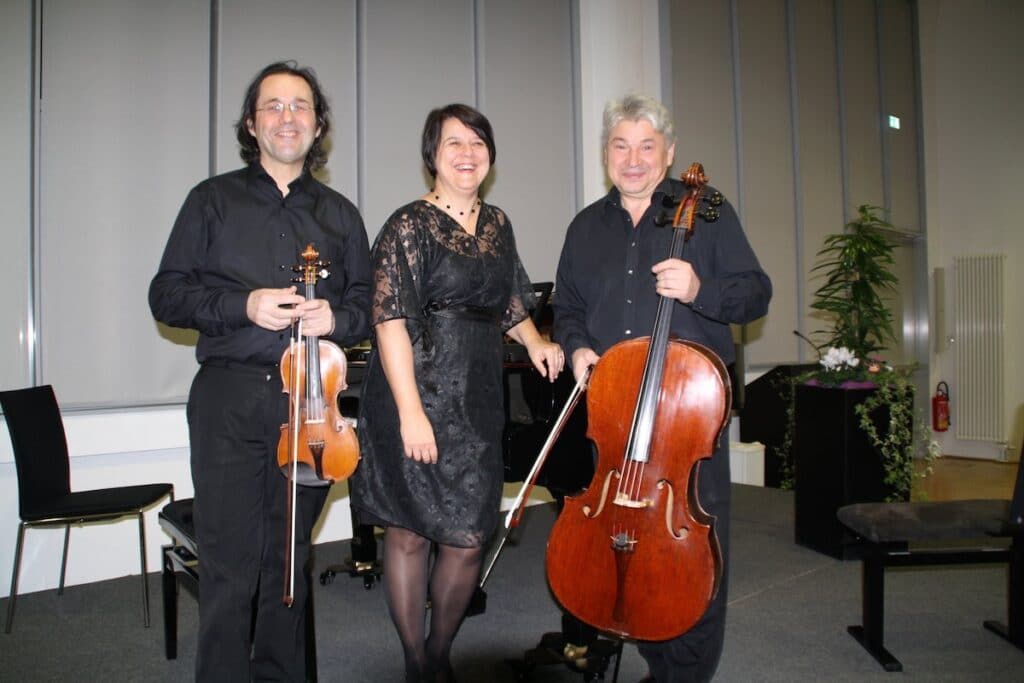 Very successful tour of Amael Piano Trio in Benelux/Germany
Amael Piano Trio with works by Schnittke, Brahms, Piazzolla, Lazar http://pronota.de/2017_02_Rezension_Amael_Piano_Trio.pdf
Sunday, February 12, 2017 '12am-2pm Muziekkamer Assen Podium Zuidhaege, De Schalm, Zuidhaege 2, Assen, Netherland Amael Piano Trio with works by Schubert, Schnittke and Beethoven
ABOUT AMAEL PIANO TRIO
The Amael Piano Trio was founded by three very accomplished artists, who, individually, have backgrounds as prominent soloists and chamber musicians.
All three artists, the pianist, Peter Zoltan, the violinist, Volodja Balzalorsky and the cellist Damir Hamidullin, have performed internationally as guests of numerous music festivals and cycles, and as soloists with many orchestras.
Individually, as well, they have also created multiple CD,s and have made extensive live and archival radio and TV recordings throughout Europe and in the USA and Asia.
The trio has 18 years of successful performances in a variety of venues, concert series, and festivals including: Universal Affair at Carnegie Hall and Spectrum Ferstival at Carnegie Hall in New York.
Amael Trio performed at festival and concert series such as:
The Forge Concert Series in London, Grieg Festival in Bergen, Mask Fest in San Mario, Nuovi Spazi Musicali and Festival of Nations in Rome, Festival Spectrum at Gasteig in Munich, Forfest in Kromeriz, Tallin Chamber Music Festival, ISARTI festival in Kaunas, Urbino Chamber Music Series; Foyer European Chamber Music Series, Kolarc Chamber Music Podium in Belgrade, Festival NIMUS in Nis, MAG festival Split.
Concerts of Amael Piano Trio are often awarded with standing ovations.
They also performed at Festival at Chateau Bystrice pod Hostynem, CZ, Ljubljana Festival, Bled Festival, Pucisca Summer Festival, Bol Summer Festival, performance at Cankarjev Dom (the most important cultural centre in Slovenia), the International Festival of Contemporary Music in Radenci, Summer Music Festival of Hvar (Croatia), International concert series of Zemono, The Spectrum Festival etc.
The Amael Trio has achieved the status of being among the most sought after chamber groups in Slovenia.
In addition to performing known traditional trio literature from various style epochs, the trio is also dedicated to performing contemporary works, and to the promotion, internationally, of Slovenian composers of piano trio literature.
Very successful tour of Amael Piano Trio in Benelux/Germany
MEMBERS OF AMAEL PIANO TRIO
ZOLTAN PETER – PIANO
Pianist Zoltan PETER was born in Vojvodina. He attended the Secondary School of Music in Subotica (directed by Marija Sekelj) and then went on to study under Professor Arbo Valdma at the Academy of Arts in Novi Sad. His formal study was completed of the piano at the Ljubljana Academy of Music
As a soloist, chamber musician and piano accompanist for many excellent musicians of the highest level from both the younger and older generations, he has been a guest performer in Italy, Hungary, the former Soviet Union, Germany and Switzerland, and well as at festivals of contemporary music.
As a soloist with orchestra, he has performed under the baton of conductors such as Igor Gjadrov, Simon Robinson, Berislav Skenderović, Hermann Ostendarp, Guido Mancuzzi, George Pehlivanian, Paul Hoskins, En Shao and others.
Very successful tour of Amael Piano Trio in Benelux/Germany
VOLODJA BALZALORSKY – VIOLIN
Volodja Balzalorsky is internationally acclaimed violinist.
He is Two Time Winner of Independent Music Awards 2014 – on receiving top honors in the Live Performance EP category for Karol Szymanowski: Violin Sonata in D Minor with the pianist Hinko Haas, and Vox Pop Independent Music Award 2014 for Debussy Violin Sonata performing with the pianist Christoph Theiler.
He was also Four-Time Nominee of IMAs 2014.
Volodja Balzalorsky is recipient of several further international music awards such as The Hollywood Music in Media Award, The Inland Empire Music Award, The Ontario Independent Music Award, The Canary Island Music Award, Julij Betetto Music Award.
Numerous highly praised concerts, broadcasts, CD and TV recordings in various countries have established his reputation as an artist with a sensitive, intelligent, and intuitive gift of interpretation, a polished technique, and a rich, full tone.
Very successful tour of Amael Piano Trio in Benelux/Germany
DAMIR HAMIDULLIN – CELLO
Cellist Damir Hamidullin is a virtuoso soloist and an excellent representative of the famous Russian cello school.
He is first solo cellist of the National Opera House in Ljubljana (Slovenia) and a member of the Amael piano trio.
He performs throughout Europe as a soloist, recitalist and chamber musician.
He has played as a soloist many times with the Kazan Philharmonic Damir Hamidulin
and with other symphonic and chamber orchestras in Russia and in
Slovenia.
He plays all the famous concertos on his instrument: Haydn, Dvorak, Saint-Saens, Schumann, and Tchaikovsky.
He has also been guest artist at various international festivals – Festival Groblje and Festival of Contemporary Music Radenci in Slovenia, Festival of Contemporary Music Kishinjev in Moldavia, Festival of Kazan in Russia, etc.
More Infos about Amael Piano Trio:
Electronic Press Kit of Amael Trio